You've got a great Vlog, show, or video and you NEED to boost your YouTube presence, "4 Ways to Instantly Grow Your YouTube Traffic: Proven Tricks for Views and Likes" will give you the upper-advantage to get you there.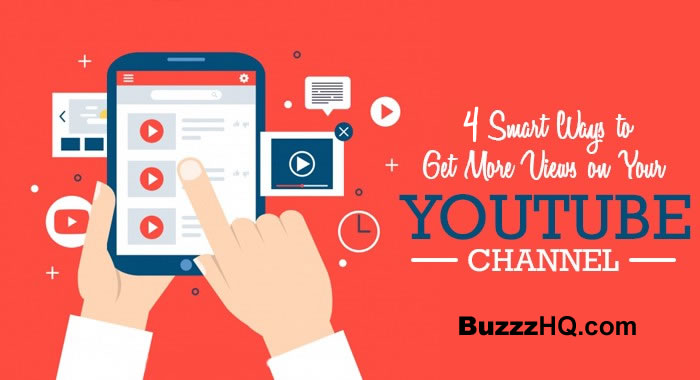 Since YouTube is now the second most-visited site in the world, it's about time you give some attention to your dormant YouTube channel.
Nowadays, people head to YouTube for pretty much everything.
Whether it's learning how to use your Hoover or watching a documentary about how banknotes are made, you'll find everything on the platform. That's probably why an average visitor spends about 40 minutes on YouTube.
That's a lot of time for you to grab your audience's attention to make them engage with your content. However, despite the viewers binge-watching YouTube videos, many people seem to have difficulty in getting a considerable number of views and likes.
In this guide, we discuss four fool-proof methods to grow your YouTube channel and build a loyal audience.
4 Ways to Get YouTube Traffic, Views and Likes
Like Google, YouTube also has an algorithm that's designed to provide the best experience for its users. Over the years, the algorithm has gotten better at detecting content that would appeal to the viewers.
Here are four ways to get noticed by the algorithm and have your videos pushed to the viewer's recommendations.
Write An Attention-Grabbing Title
Before your audience gets into the video, they're going to read the title. Think of it as a book cover. If it's interesting, people are likely to turn the page over.
When it comes to YouTube titles and thumbnails, presentation matters a lot. The title can make your video come across as a must-see or just a meh content.
The key here is to write a title that would attract attention without being clickbait.
People like to see interesting content. If that's what you're making, you won't even need clickbait.
All you need is to tell your audience – through the title – that this video is worth their time.
For instance, you should take a page out of Buzzfeed's book when writing YouTube video titles. They often have questions or hyperboles ('best of all times..', 'insane') in their video titles. Plus, listicle video titles also tend to do well since they give structure to the content.
You can also make 'how-to' titles as they tell the audience exactly what they'll find in the video.
Instead of titling your video 'The Dyson AirWrap,' if you name it 'How to Use The Dyson AirWrap' or '3 Ways To Use The Dyson AirWrap for Your Next Girls' Hangout', you're more likely to get views.
How-to videos also have a higher likelihood of showing up in the Google search queries since YouTube videos are recommended in 70% of Google search results.
Leverage Viral Trends

Although it's not always possible to integrate viral trends into your YouTube videos, if your channel's theme allows you to do it, go ahead with it.
Make sure you're using the appropriate keywords and tags to appear in the audience's recommendations. When a certain trend goes viral, there's already a high demand for the content surrounding it.
By making videos on the subject, you appeal to the audience. For instance, you can make related content near the election season or tap into a celebrity controversy if that's the kind of thing you do on your channel.
However, don't delve too deep into viral trends or conspiracies, as they can often backfire. Entertain your audience but stay on the safe side unless you want to be seen making apology videos later.
Optimize Your YouTube Videos
YouTube is no different from Google when it comes to people searching for solutions or entertainment.
The videos you publish on your YouTube channel also need to be optimized, just like any blog post or article on Google.
Here are some YouTube SEO practices to follow religiously:
Titles: It's good practice to include your keywords in the YouTube video channel. If you're struggling with finding the right keyword, use any online tool, such as Keywordtool.io.

Descriptions: Besides the title, you should also place the keyword in the description. Try to write it in the first two lines of your video description.

Keywords In Video: You should also say the keywords in your video to give the algorithm a better idea of what your video is about.

Categories: Instead of publishing your videos as general content, putting them in a category will allow YouTube to find you easily and show your channel to people who often search for content in the same category.

Tags: Along with categories, you can also add tags to your YouTube videos. They help give the algorithm some context about your video content. Add a considerable number of tags but don't go overboard. Also, make sure that your tags are not all over the place.
Most importantly, do not stuff keywords as the YouTube algorithm is a bit too smart today than it was a few years ago. Instead, only use keywords where they make sense.
Host a Giveaway
We've all seen our favorite YouTubers host giveaways on their channels. Hosting contests is a great way to increase engagement and get more subscribers.
Keep the rules simple. Tell people to subscribe to your channel, like the video, and drop a comment to enter the giveaway. Here are some tips to keep in mind:
You must adhere to YouTube's policies when hosting a contest.

Try to choose a gift that's relevant to your channel. Otherwise, you'll simply attract freebie-seekers who will unsubscribe after the giveaway is over.

Get creative with the entry rules.
Like any other method, it's advised not to go overboard with giveaways. You should only hold them if they seem to be giving results. Otherwise, you'll end up wasting your money and time.
More importantly, create good content so that your new subscribers do not leave once the contest is over.
Conclusion
With 500 hours of video being uploaded to the platform every minute, it's hard to build an audience for yourself.
You have to give the viewers a reason to spend their average 40 minutes on your channel rather than the other hours' worth of content being uploaded.
To make that possible, follow the tips given in this guide, consider giving your channel or video an extra boost with our YouTube services, and keep making awesome content.